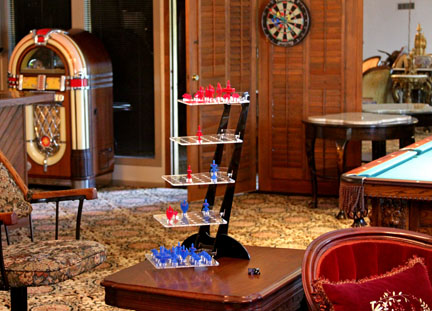 The Legendary Game
What is Yavoch!? It's a space-battle game of strategy, luck, and limited resources in three dimensions. It's a game where you can lay mines, use secret weapons and where the attacker doesn't always win a challenge. There are teleportals and a laser cannon, and if your pieces run out of energy, they won't be able to move.

With twice as many positions on the board and twice as many pieces as chess, winning this game is more than memorizing classic plays. You need to manage your flow of energy and collect technologies to build new weapons. Set-up your defenses, then plan a strategy to defeat the enemy's command ship. But don't be surprised if an asteroid swarm or engineering failure force your plans to change.

Yavoch is the product of two years research, analysis, play-testing, revising and developing this game. We distributed 300 copies to our fans and listened to their feedback. We took all their suggestions and made revisions then spent another two years play-testing in our secret lab with players ranging in age from 10 to 80. What we have today is a vastly improved version of the game.

Yavoch is much more than a game. It's a work of art designed to be beautiful in anyone's game room. Each game is laser cut from museum-quality cast acrylic and hand packed for perfection. Order yours today. You'll be glad you did!